With a modest budget of around $150/€150/£150, you can acquire the essential equipment to kickstart your DJing journey. In this guide, we'll show you how to set yourself up for success without emptying your wallet.
A Second-Hand Controller: Pioneer DJ DDJ-Wego (Versions 1 or 2)
One of the cornerstone components of a DJ setup is a controller, and the Pioneer DJ DDJ-Wego is an excellent choice for beginners. Look for versions 1 or 2 of this controller, which support 4 decks and offer a range of features to help you mix and match tracks seamlessly. The beauty of buying second-hand is that you can often find well-maintained controllers at a fraction of their original price. With a budget of around $80, you can snag a reliable and functional DJ controller to hone your skills.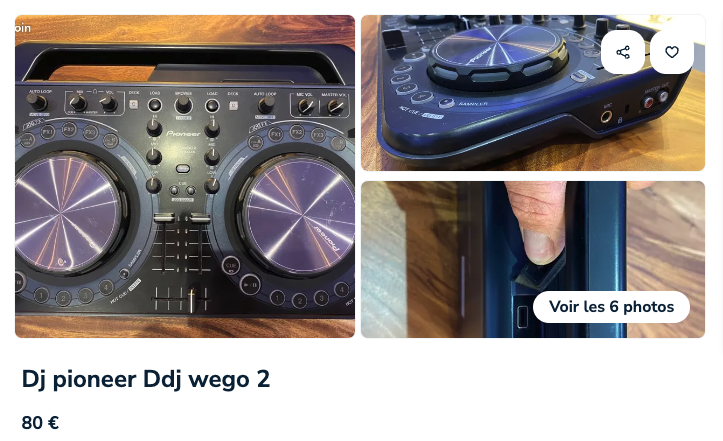 DJ Headphones: Wired Pioneer DJ HDJ-CUE1
Having a pair of good-quality headphones is essential for any DJ, as they allow you to precisely monitor your mixes and cue up tracks. The wired Pioneer DJ HDJ-CUE1 headphones strike an excellent balance between affordability and performance. With a price point of approximately $65, these headphones deliver clear audio and comfortable wear, making them ideal for practice sessions and learning the ropes of DJing.
Algoriddim Djay Software: Monthly Subscription
While hardware is crucial, software plays an equally vital role in your DJing journey. Algoriddim Djay is a user-friendly software that caters to both beginners and experienced DJs. Offering features like Beatport integration and easy-to-use interfaces, Djay empowers you to create impressive mixes even with limited experience.
The monthly subscription cost of Djay software is $6.99, making it an affordable investment for budding DJs. This subscription model ensures you always have access to the latest updates and features without a substantial upfront cost.
Putting It All Together
With just $150/€150/£150, you can assemble a beginner DJ setup that will enable you to practice, experiment, and develop your skills. The Pioneer DJ DDJ-Wego controller, wired Pioneer DJ HDJ-CUE1 headphones, and Algoriddim Djay software create a well-rounded foundation for your DJing journey.
Remember, while these components provide a fantastic starting point, DJing is about continuous learning and growth. As you become more skilled and experienced, you can gradually upgrade your equipment to suit your evolving needs and style.
In conclusion, pursuing your passion for DJing doesn't have to come with a hefty price tag. By making smart choices and selecting affordable yet capable equipment, you can embark on your DJing journey without straining your budget. With dedication, practice, and a love for music, your $150 investment can pave the way for exciting musical adventures ahead.