Design and Build Quality
Hercules has demonstrated a knack for innovation, and the Inpulse T7 is no exception. The controller's design exudes a sense of modernity and functionality. Despite its predominantly plastic construction, the Inpulse T7 maintains a balanced weight, making it highly portable and easy to carry. The inclusion of belt-driven spinning platters, though unconventional, enhances the controller's scratching capabilities without compromising its durability.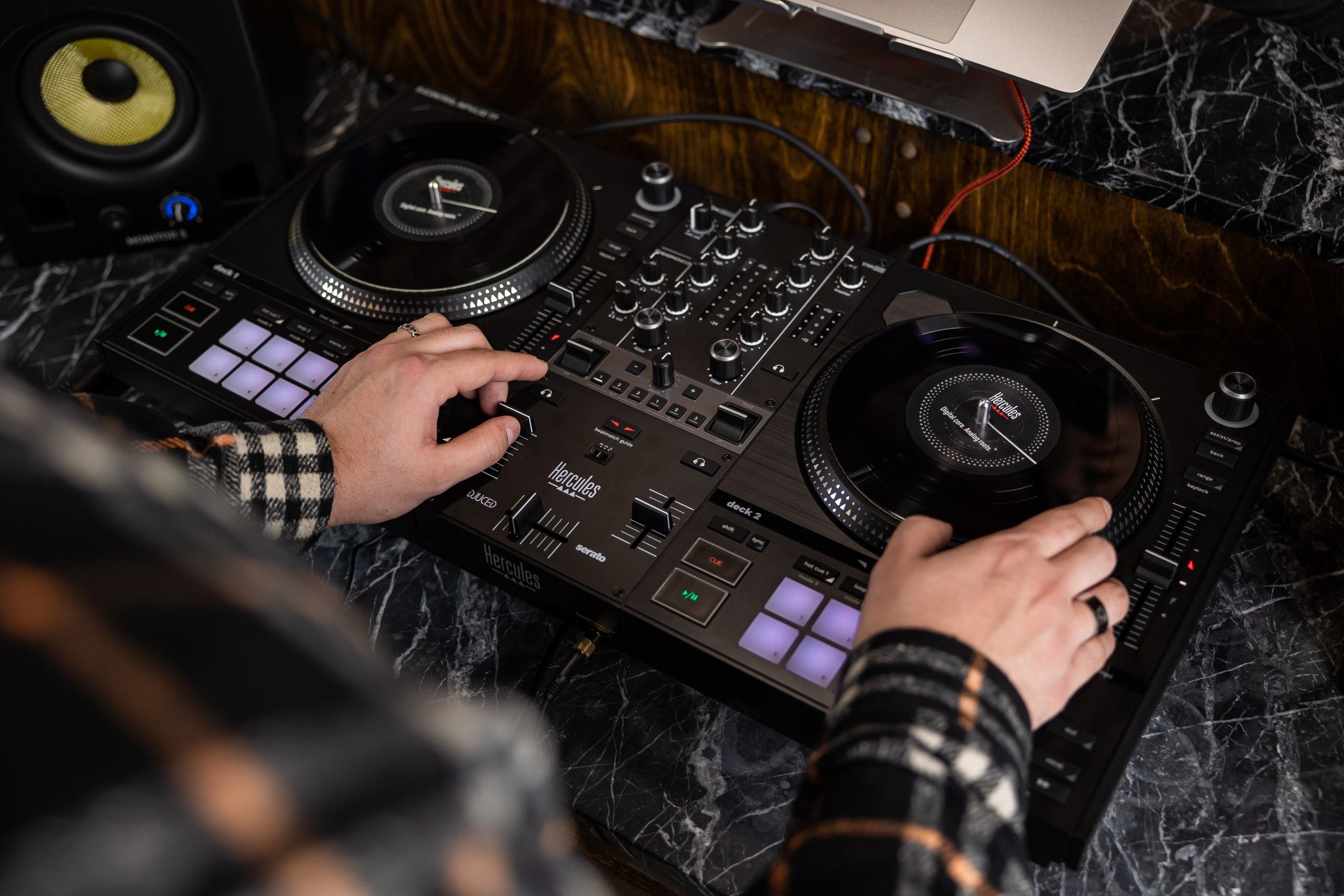 Spinning Platters
The standout feature of the Inpulse T7 is undoubtedly its belt-driven spinning platters. Measuring at a compact seven inches, these platters provide a surprisingly comfortable scratching experience. While the choice of belt drive might raise eyebrows, the platters perform remarkably well, responding effectively to scratching techniques. Notably, the unique approach to connecting records to the platters allows for customization with different-colored records and slip mats, enhancing personalization options.
Faders and Scratching Performance
The Inpulse T7 delivers a solid scratching experience, though it may not completely satisfy turntablists seeking advanced scratching techniques. The faders, while functional for most DJs, might not meet the expectations of professional scratch artists. Hercules has promised a solution in collaboration with Inner Fader, which could elevate the scratching potential of the Inpulse T7. The controller's cutting distance is adequate for most users, though intricate multi-finger cuts might require extra effort.
Connectivity and Sound Quality
The Inpulse T7 offers a balanced output option, ensuring compatibility with larger sound systems. Its sound interface provides clean and accurate audio output, performing beyond its technical specifications. The inclusion of a microphone input, while limited in terms of EQ, delivers satisfactory results for low-output mics. Users interested in live streaming should be aware of the separate interface requirement due to the independent routing of the microphone signal.
Software Integration
The Inpulse T7 supports multiple software options, with notable compatibility with Serato DJ Lite and Serato DJ Pro. The inclusion of dedicated library controls streamlines track selection and loading, enhancing the overall workflow. Performance pad modes, while comprehensive, might differ slightly in integration between various software options. The controller's effects section, while versatile, may require a learning curve to fully grasp its operation.
Value and Conclusion
Priced at a modest $699, the Hercules DJ Control Inpulse T7 offers incredible value for its features and capabilities. It caters to both entry-level DJs and those seeking an intermediate controller with enhanced scratching capabilities. While the build quality might not match premium offerings, the Inpulse T7's unique spinning platters, customizable features, and overall performance make it a worthwhile investment. DJs looking for an affordable yet powerful controller should consider the Hercules DJ Control Inpulse T7 for their setup.
Hercules official product information and specifications