Engine 3.1 Update - Powerful New Features
Engine OS version 3.1 comes with significant improvements and three major new features that enhance the DJing capabilities. Among them, the ability to route the sampler to any channel or the master stands out as a welcome addition to the existing cool features.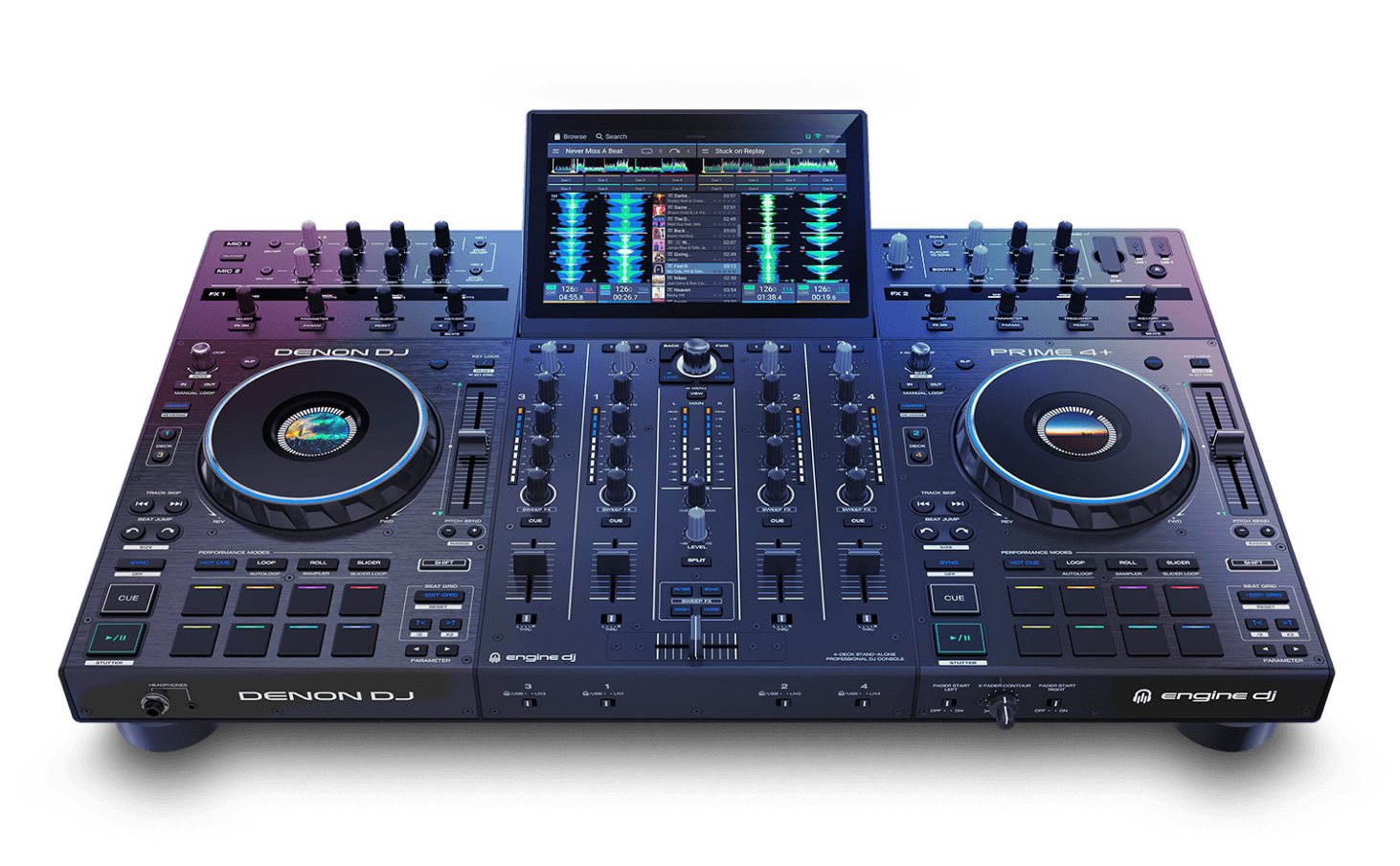 Expanded and Upgraded Main Effects
The latest update brings a massive expansion and enhancement to the main effects on Denon DJ hardware. With a wide array of effects, DJs can now have more control, as each effect includes a frequency parameter to choose specific parts of the music to apply the effect to.
Introducing Touch Effects in Engine 3.1
The new Engine 3.1 also introduces touch effects, which are available on all devices. With a variety of effects to choose from, DJs can assign touch effects to different channels for an interactive and dynamic performance.
Smart Playlists in Engine 3.1
Engine OS version 3.1 also introduces smart playlists in the desktop software. DJs can now create smart lists based on different criteria, offering a more efficient way to organize their music library. These smart playlists can then be converted to regular playlists for easy access during performances.
Denon DJ Prime 4+ - Refined Aesthetics and Features
The Prime 4+ is the latest addition to Denon DJ's Prime series, offering a more refined aesthetic and a hardware chip that enables the use of Amazon Music streaming. While the hardware design remains similar to the original Prime 4, the updates and improvements are worth considering for new buyers.
Key Features of the Prime 4+
With support for four decks, DJs can seamlessly mix and explore various creative possibilities during their sets. The built-in Wi-Fi connectivity allows access to popular streaming services such as Beatport, Beatsource, TIDAL, SoundCloud Go+, and Amazon Music Unlimited, providing instant access to an extensive library of tracks without the need for external devices.
For those who prefer to incorporate their own music collection, the Prime 4+ integrates with Dropbox, enabling access to personal music stored in the cloud. This feature allows DJs to include custom tracks and exclusive edits in their performances with ease.
The addition of a sample player triggered by performance pads enhances the DJ's ability to add unique elements and personalized touches to their mixes. DJs can introduce creative samples and loops, elevating their sets and adding a distinctive touch to their performances.
Engine OS version 3.1 introduces smart playlists in the desktop software, which allows DJs to create playlists based on specific criteria. This intelligent playlist management system simplifies music organization and streamlines the DJ's workflow.
The hardware of the Prime 4+ includes three pairs of XLR outputs (Master, Booth, and Zone) and two dedicated microphone inputs with individual EQ controls, ensuring reliable and high-quality audio output for various performance settings.
The device features a 10.1-inch multi-touch main screen and full-color jog wheel displays, providing DJs with an intuitive interface to navigate and control various functions effortlessly.
Prime 4 vs. Prime 4 Plus - Is the Upgrade Worth It?
For existing Prime 4 owners, the decision to upgrade to the Prime 4+ may not be justified, considering that most of the new features introduced in the Plus version are also available through the Engine 3.1 update. However, for those in the market for a Prime 4, the Plus offers some marginal improvements that may make it a more attractive option.