Native Instruments, a well-known name in the music production and DJ industry, has recently released the Traktor X1 MK3 controller. This compact modular DJ controller is designed to seamlessly integrate with the Traktor software, offering a wide range of features for both beginner and experienced DJs.
Design and Build
The Traktor X1 MK3 comes in a sleek black enclosure that's slightly larger than its predecessors. One notable design element is the transparent housing on the bottom of the unit, which features functional LEDs. These LEDs can be used for visual cues, adding a layer of interactivity to the controller. Additionally, the unit boasts five OLED displays on the front, providing quick access to various functions and information, such as effects, mixer levels, track details, and loop settings.
Controls and Functionality
The controller offers a wide array of controls that cater to different aspects of DJing. The inclusion of large backlit buttons with tactile accessibility enhances the user experience, allowing DJs to navigate the controller without needing to constantly look at it. There are eight potentiometers and four encoders for precise control over effects, looping, browsing, and more.
A standout feature is the 20 transport controls located on the lower section of the controller. These controls eliminate the need for constant use of shift keys, making it more intuitive to manage decks, hot cues, beat jumps, queuing, and syncing.
Effects and Customization
The Traktor X1 MK3 places a strong emphasis on effects control. With 34 color-customizable backlit buttons, eight knobs, and four encoders, DJs have extensive control over Traktor Pro software. The OLED displays associated with each effect provide real-time information about the effect's parameters, making it easier to make adjustments while performing.
The controller's effects groups can be customized and accessed with ease. Switching between different effects slots and controlling on/off settings is straightforward. Additionally, the X1 MK3's ability to control pattern players is a notable feature for those subscribed to Traktor Pro. This feature allows for the sequencing of patterns and manipulation of sounds using various kits.
Mixer Control and Customization
The X1 MK3 doesn't just focus on effects; it also provides comprehensive mixer control. The EQ knobs, volume controls, and headphone monitoring buttons enable DJs to fine-tune their mix on the fly. The X1 MK3's mixer section is intuitive and integrates seamlessly with Traktor software.
Customization is a strong suit of this controller. The X1 MK3 can be personalized to match individual preferences, with options to change LED colors and settings. DJs can tailor the controller's appearance to their liking, adding a touch of personal style to their performance setup.
Connectivity and Software
The X1 MK3 is bus-powered and requires only a USB connection to the computer, eliminating the need for additional power sources. The inclusion of a three-port USB hub is a practical feature that simplifies the connection of other devices, such as MIDI controllers or external hardware.
Native Instruments also includes Traktor Pro 3 software with the X1 MK3. While the controller comes pre-mapped for immediate use, the software's customization options allow DJs to create a setup that suits their individual workflow.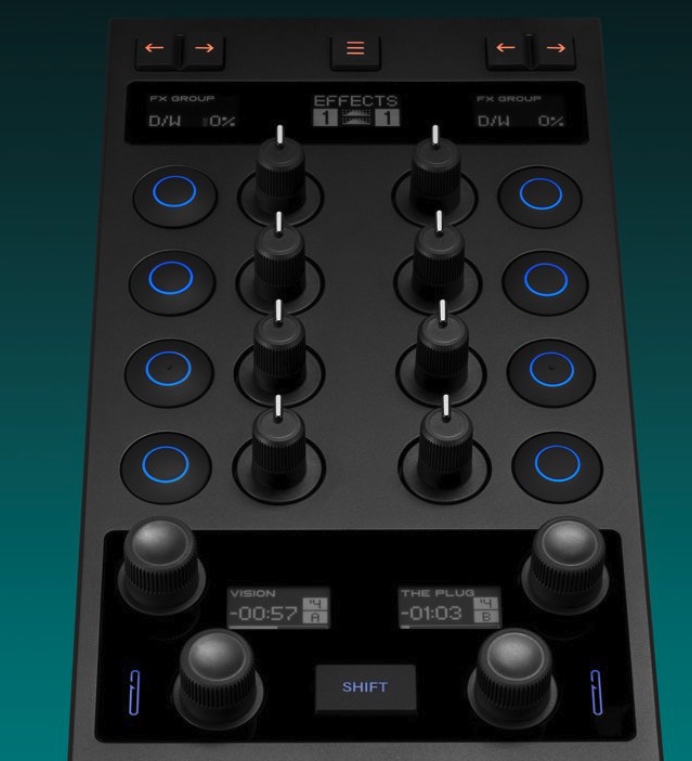 Final Thoughts
The Traktor X1 MK3 controller from Native Instruments offers a compact yet feature-rich solution for DJs seeking versatile control over their performances. With its user-friendly design, comprehensive effects control, and customization options, the X1 MK3 caters to both newcomers and experienced DJs looking to enhance their creative capabilities. While each DJ's preferences may differ, the Traktor X1 MK3 undoubtedly delivers a solid foundation for exploring the world of digital DJing.
Native Instruments Official information and specifications