Meet the Pioneer DJ PLX-CRSS12 (that can be read as Pioneer DJ PLX Cross 12), a groundbreaking turntable that combines the best of scratch turntables, DJ controllers, and DVS systems. This versatile and feature-packed device is designed for Scratch DJs who want it all: the ability to play vinyl records and control their software seamlessly. In this review, we'll explore the design, setup, and unique features of the PLX CRSS12 to help you decide if it's the perfect turntable setup for you.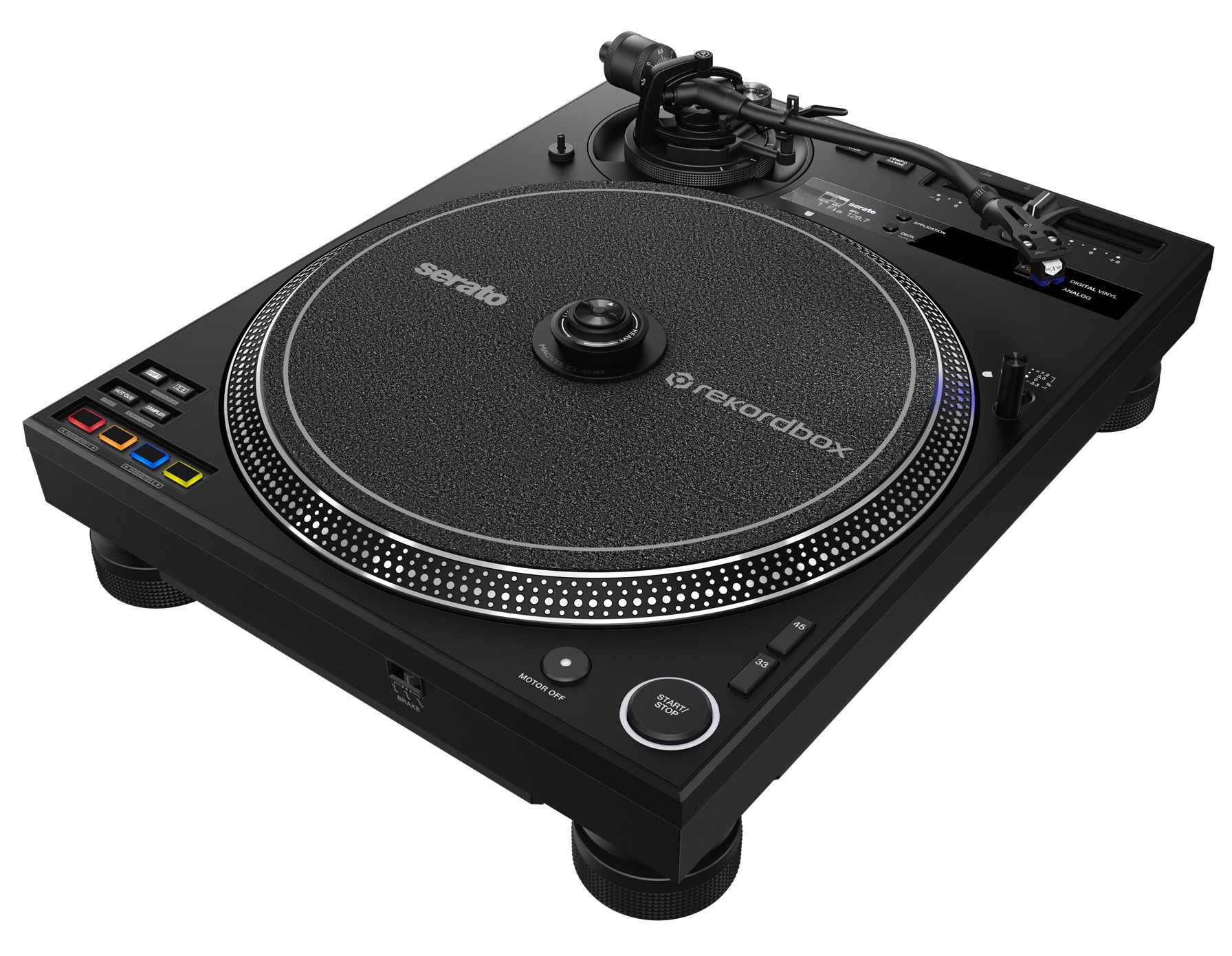 Unboxing and First Impressions
At first glance, the PLX-CRSS12 may appear similar to traditional turntables like the Technics 1210 or PLX 1000. However, a closer look reveals that this turntable has much more to offer, drawing inspiration from the Re-loop RP 8000, Rane Twelve, and Phase Wireless DVS system. Its solid build quality and matte black finish give it a tasteful appearance, while jumbo feet ensure stability and weight.
Innovative Design and Configuration
The turntable's unique design features an independent motorized platter, held together by six screws, with two spinning sections in the middle. A magnetic Magvel clamp allows you to adjust the turntable's feel from light to heavy, providing a customizable scratching experience.
Controller Functions and Performance Pads
The PLX-CRSS12 boasts four rubberized buttons on the bottom left corner for controlling hot cues, stems, sampler, and scratch bank. These buttons can be mapped to various parameters in both Serato DJ and Rekordbox software. DJs can easily switch between performance pads and utilize the shift button for even more functionality, like instant doubles.
Seamless Integration with Serato DJ and Rekordbox
The turntable supports both Serato DJ and Rekordbox, making it incredibly versatile for DJs who use different software. It offers two modes: DVS mode, using control vinyl for traditional vinyl control, and software mode, where the turntable behaves like a motorized controller without the need for the tonearm.
The Power of Step Pitch
The PLX-CRSS12 introduces an uncommon feature called step pitch, which offers two pitch control modes: smooth pitch and step pitch. Step pitch allows DJs to jump to the nearest musical note, making it useful for harmonic mixing and tone play.
Utility and Phono Preamps
The turntable provides utility settings for customizing torque, LED brightness, and auto standby options. The phono preamps deliver exceptional sound quality for DJs who love listening to vinyl records.
The Future of Turntablism
The Pioneer DJ PLX-CRSS12 is an innovative and flexible turntable that caters to modern Scratch DJs' needs. Its combination of scratch turntable, DJ controller, and DVS system functionalities make it a top choice for open format DJs and professionals who demand flexibility. Though it comes with a higher price tag, its numerous features and outstanding build quality make it worth considering for DJs seeking the ultimate turntable setup.
Pioneer DJ Official information and specifications