The Pioneer DJ DJM-A9 enters the scene as the latest iteration in Pioneer DJ's lineup, positioned to succeed the popular DJM 900 Nexus 2. Designed with a focus on professional DJs who lean towards mainstream sets and traditional mixing styles, the DJM-A9 aspires to set a new industry standard, presenting a range of fresh features and enhancements.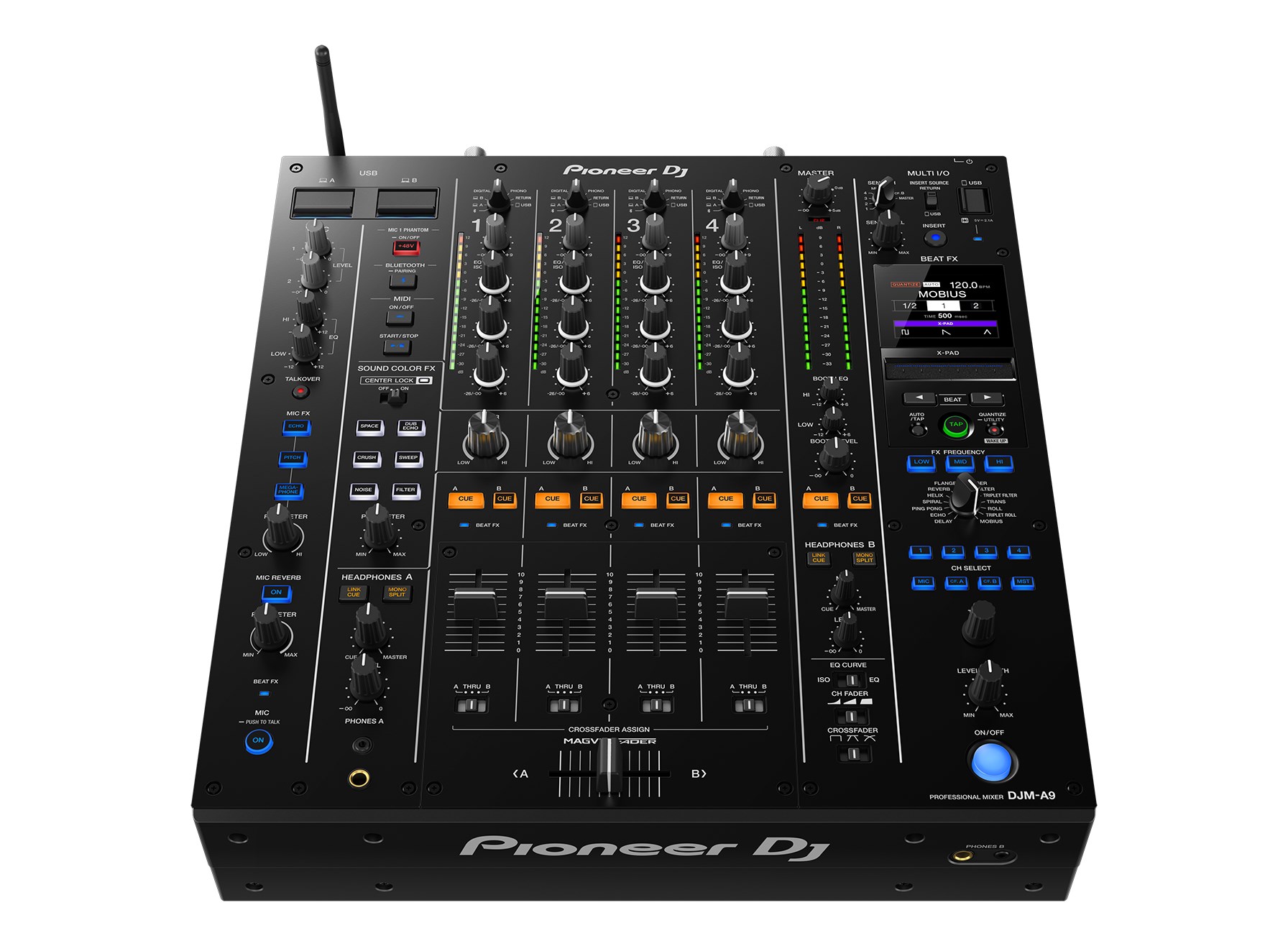 An In-Depth Look at the Mixer
At first glance, the DJM-A9 shares a strong resemblance to the 900 Nexus 2, though it slightly extends its width. The layout retains the familiar core elements, featuring four central channels with controls including channel selectors, trims, three-band EQs, color effects, cue buttons, channel faders, and a crossfader. On the left, two USB ports and two microphone inputs are accompanied by varying effects and parameters. Noteworthy additions encompass a redesigned display and a fresh Bluetooth section.
New Features: Distinctive Elements
Center Lock for Effects
: A novel inclusion is the center lock for effects, which curtails unintentional overshooting when applying the filter. Functioning as a mechanical safeguard, it forestalls inadvertent adjustments and lends a measure of precision.
Expanded Effects
: The DJM-A9 introduces three additional effects, incorporating the highly acclaimed Mobius effect from the DDJ-1000. Moreover, the mixer introduces triplet effects such as triplet filter and triplet roll, extending creative mixing possibilities.
Efficient Effects Selection
: The DJM-A9 streamlines the process of effect selection, adopting buttons in lieu of rotary controls for simplified transitions. This enhancement contributes to smoother effect assignments during performances.
Enhanced Display and X-Pad
: The mixer shines with a high-resolution color display and an upgraded X-Pad for managing effects. The screen offers detailed insights, customizable settings, and improved visuals, enhancing the overall user experience.
A/B Headphones
: Featuring A/B headphone inputs, the DJM-A9 empowers two DJs to simultaneously have their headphones plugged in, catering to back-to-back sets and DJ pairings. This addition augments versatility during live performances.
Booth EQ
: Borrowing a feature from the V10 mixer, the DJM-A9 integrates booth EQ controls, supplying independent high and low EQ adjustments for the DJ booth. This facet proves especially beneficial for mobile DJs and those adapting to varying venues.
Microphone Flexibility
: Noteworthy enhancements within the microphone channels include phantom power for one microphone. Fresh effects such as reverb, pitch, and megaphone contribute to the microphone's versatility, enriching vocal performances.
Elevated Sound Quality
: Pioneer DJ elevates the audio quality of the DJM-A9 by implementing 32-bit audio architecture and advanced audio chipsets. The mixer now rivals prominent analog and digital mixers, producing improved sound across all channels.
Bluetooth Pairing
: The incorporation of Bluetooth pairing facilitates seamless connections to mobile devices for quick music playback and backup solutions. This feature serves both DJs and event coordinators efficiently.
USB-C Connectivity
: The DJM-A9 introduces USB-C ports alongside the conventional USB-B ports, ensuring compatibility with contemporary connectivity standards and aligning the mixer with modern technology trends.
Customization and Hidden Attributes
Beyond visible changes and new features, the DJM-A9 harbors a layer of customization not immediately apparent. The improved screen and menus empower DJs to personalize beat effects, including beat selection for effects and frequency range settings. The mixer further permits DJs to save and load customized configurations, facilitating adjustments to suit individual preferences.
In Conclusion: An Advancement for Professional DJs
In summary, the Pioneer DJ DJM-A9 marks a significant stride forward for professional DJs. The myriad improvements and expanded capabilities refine the formula established by its predecessors as a club-standard mixer. The inclusion of fresh effects, elevated audio quality, and considerate design tweaks ensures that DJs wield the tools needed for exceptional performances. While a few exclusions and considerations about the impact of the iPad app on DJ autonomy emerge, the overall package positions the DJM-A9 as a fitting successor to the 900 Nexus 2.
Pioneer DJ Official information and specifications